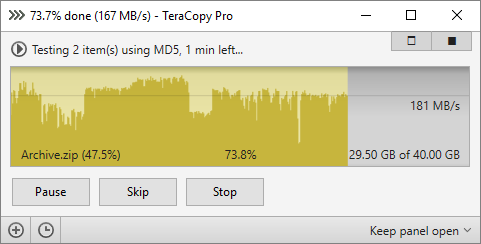 New features since version 2.3:
Support for an unlimited number of files, the internal file list stored on disk instead of memory.
Copy files using an elevated Windows Service and Volume Shadow Copy if required.
Verify against hash in clipboard: youtu.be/geLuL2PE2_I.
Create a new folder with selected items using Explorer context menu: youtu.be/qwGwf779D1Q.
Queue transfers for the same physical drive.
A new file replace dialog.
Wait for network or device recovery.
Better reports (html and csv format).
Show skipped/failed/transferred items only.
Remove all transferred files [Pro].
Changelog:
0000049: Unable to copy files – Error in overlapped reading
0000044: Drag and Drop from 7-Zip File Manager causes Unable to Access error
0000043: Checksum file saved in the wrong path
0000041: When started after install, error occurs.
0000047: Crash at the end of each copy
0000034: Make the expanded Views pinnable
0000033: Improved Destination File Dialog
0000042: No checksum verification when moving files
Download: teracopy.exe