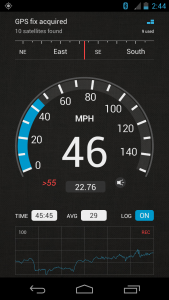 New hybrid speedo layout
Added option to invert indicator colors
Keep running when the screen is locked
Minor bug fixes and improvements
This update includes a new speedometer layout that we call Hybrid. It's an updated version of the initial speedo layout that features an analog-like dial with big speed numbers in the center. We are keeping the Legacy layout in case you would still want to use it.
Note: To clarify the situation with the Free version, we would like to stress that it's not "canceled", as some reviews seem to say. It's fully functional, and you can use it for as long as you like. However, we decided to focus on the Pro version in the future. Here are the advantages that the paid version has over SpeedView Free:
The absence of ads
Street address bar with some additional info
Premium support – you will get an answer within a day