This is a major update that improves almost every aspect of the application, from the functionality to the design. It has been in development for quite a while, and we are very excited to finally be able to release it. Please see the detailed list of changes below.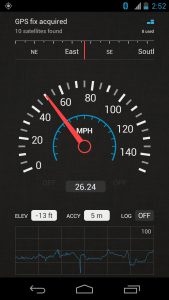 What's new in 3.0:
Updated interface design.
Support for extra high-density screens.
New customizable speedo graphics.
User-selectable indicator views.
Smooth compass and speedo animation.
Automatic GPX export option.
A new algorithm for GPS filtering.
Service now runs in the foreground.
Auto switch to GPS heading option.
Better organized settings screen.
Support for 1280×720 resolution.
Android 4.1 (Jelly Bean) compatibility.
Many other tweaks under the hood.