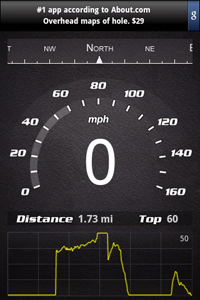 We would like to introduce our new app – SpeedView for Google Android. It's an advanced GPS speedometer that uses the phone's built-in GPS system to show your current and top speed, direction and distance traveled. Successfully tested using T-Mobile G1, Samsung Galaxy, Motorola Droid and Nexus One, it's suitable for running, car driving, biking or hiking.
Features:
Compass
Distance
Top speed
Speed graph
Display units: mph, km/h and knots
Speed warning
HUD (mirrored) mode
The free, ad-supported version of SpeedView is available now for download on Android Market. Paid version with some additional features is coming soon.
Please note that the accuracy depends on your GPS reception quality.