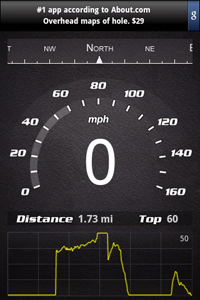 We would like to introduce our new app – SpeedView for Android. It's an advanced GPS speedometer that uses the phone's built-in GPS system to show your current and top speed, direction, and distance traveled. Successfully tested using T-Mobile G1, Samsung Galaxy, Motorola Droid, and Nexus One, it's suitable for running, car driving, biking, or hiking.
Features:
Compass
Distance
Top speed
Speed graph
Display units: mph, km/h, and knots
Speed warning HUD (mirrored) mode
The free, ad-supported version of SpeedView is available now for download on the Android Market. The paid version with some additional features is coming soon.