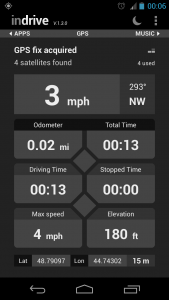 Swipe up/down to scroll through shortcuts.
New display modes: Day, Night and Auto.
Auto switch between modes at sunrise/sunset.
Quickly change songs by swiping up/down.
Improved track recording.
Added option to clear the log file.
GPX files now contain track segments.
Fixed: Pandora shortcut does not work.
Trial period increased to 30 days.
InDrive is now on sale.
We are lowering the price of the InDrive Unlocker to just $0.99. Moreover, 20 randomly selected people who place an order over the next few weeks will receive the Pro version of SpeedView as a gift. Winners will be notified by email, and their names will be posted here.
This is a limited time offer, so act quick!