Added: Ability to switch file dialogs to Large and Extra Large Icons modes.
Added: Changing 'Load at Windows startup' option without admin rights.
Fixed: Auto set view and sort modes under Windows Vista/7.
Fixed: Detecting currently open Explorer windows.
Fixed: Showing path of current executable for 64bit apps.
Added: Support for Total Commander 8.01rc4
Fixed: Double-clicking in file dialogs with files grouping.
Fixed: Not showing drives with more than 1 TB in size.
Almost all features should be working now under Windows 7/8. The main menu was also redesigned a little and new icons were added: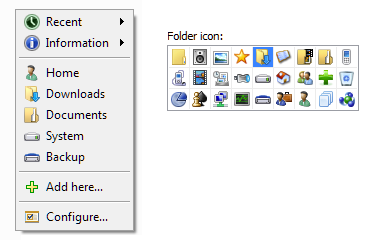 Download: codesector.com/files/directfolders.exe